BiNA Office Furniture • Call: 516-248-5858
Best of Mineola 2009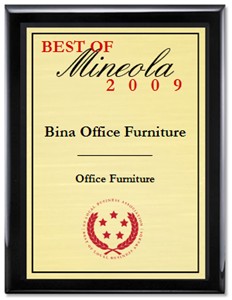 What can we say but thank you - for all the years of service to you in Long Island and New York City too - we're proud to be here for you and we appreciate all the recognition you give to us year after year.
Labels: beauty, easy, home office, long island, office space, sale
BiNA Discount Office Furniture Online: Best of Mineola: Office Furniture
Discount Office Furniture Specials
<< Office Furniture DiscountsHome
Ergonomic. Ecologic. Economic.
Clean Up Your Office Space!
Follow us on twitter @ NYdesk
New York, New York
Ergonomic Guidelines
BiNA Summertime Sweetness Sale Days are Here
Executive Summary. Recommendation: Buy from BiNA O...
BiNA Office Furniture Storage Solutions Guide
Why buy Herman Miller used cubicles?
Wood and Leather Country Club Chair