BiNA Office Furniture • Call: 516-248-5858
Traditional Seating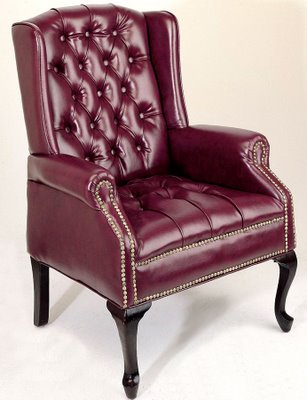 Executive Comfort, Affordable Price
Visit BiNA Office Furniture for our selection of executive chairs and desks today — we've got over 30,000+ sq ft of office furniture showroom to guide you to sweet success.
Thick padded seat and back, and padded armrests with nailhead trim are what make this executive chair distinctive. Mahogany finish curved wood legs complete the Queen Anne traditional style, shown here in Oxblood Vinyl.

Mahogany finish wood legs, padded armrest, thick padded seat and back covered in oxblood vinyl and decorative brass accents - all these details add up to one completely luxurious chair in traditional Queen Anne style. This deluxe office chair will add instant class and cozy warmth to your office space while providing comfortable seating day in and day out.
Don't see it here, come see it there - At
Bina Office Furniture Showroom
,
call 516-248-5858
Labels: 516-248-5858, chair, executive desk, long island, mahogany, office space, traditional, waiting room, wood, wood furniture
BiNA Discount Office Furniture Online: Traditional Elegance, Executive Comfort
Discount Office Furniture Specials
<< Office Furniture DiscountsHome
Create Your Own Health Care Reform
BiNA is Your Office Furniture Place
Factory Closeout Pricing
BiNA Office Desk Sale, Long Island / Nassau County...
U Shaped Workstation Desks
Waiting Room Furniture Bargains
Knock on Wood, at BiNA Discount Office Furniture S...
Plan, Buy, Build. At Bina Office Furniture
Sweet Executive Desk Suites
Be Your Own Santa, at BinaOfficeFurniture.com