BiNA Office Furniture • Call: 516-248-5858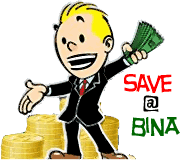 Quality + Value = Discount
When you're looking for great deals and value on quality office furniture in New York, you just need to know one word — BiNA — to find your office furniture solutions be it cubicles, desks or conference tables. We've got them here in our huge Long Island Showroom.
Browse Online Discounts
Then visit our showroom today for even more discounts and selection options!
http://binaofficefurniture.com/office-furniture/index.php
Visit our showroom today
for complete information on selection, styles and more
http://binaofficefurniture.com/directions.shtml
Labels: 516-248-5858, bargain, conference furniture, conference table, cubicle, executive desk, partition, quality, reception desk, value
BiNA Discount Office Furniture Online: Save Money at BiNA Discount Office Furniture
Discount Office Furniture Specials
<< Office Furniture DiscountsHome
Visit BiNA 30,000+ sq ft Office Furniture Showroom...
Reception Desk Deal - Discount Reception Desk
Gotham City Counts on BiNA Office Furnture
It's Not an Avatar, It's Real
Win Big with our Racetrack Conference Tables
What's in YOUR Office?
Cherry Wood Veneer U-Shaped Workstation: Series Sa...
Santa Was Here
"Desk" Your Halls .. with Cubes from BiNA
BiNA Best of Long Island 2010