BiNA Office Furniture • Call: 516-248-5858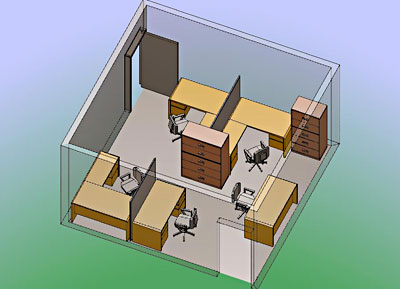 Home Office Productivity Tips
Your home office workstation is the center of your workplace productivity. You may have special needs that require consideration for best use of your home office workspace. You may need multi-purpose desk or office document storage, shared office space limitations or expectations, and lastly the essence of any office planning is the available usable space for your workflow and requisite office furniture itself.
Home Office Furniture Design
If at home you are looking to blend home and workspace you may find the need for colors or style to suit your decor, yet consider even more important the need for organization and storage of your documents - legal or letter sized filing - office ergonomics, and ultimately how you plan to use your space - for phone calls, writing, computer or laptop use, conference and client meeting space, etc.
Visit BiNA Office Furniture for Complete Home Office Solutions
We often get calls asking if we also carry home office furniture. We do, and always have. BiNA Discount Office Furniture is a leader in office furniture in New York. Visit our Long Island showroom to discuss your office needs, from desk and chair, to complete conference room, office cubicles, and more.
About BiNA: http://binaofficefurniture.com/about.shtml

Long Island Showroom Directions: http://binaofficefurniture.com/directions.shtml
BiNA Discount Office Furniture
Call 516-248-5858
Visit http://binaofficefurniture.com
Follow http://twitter.com/NYdesk
Labels: 516-248-5858, beauty, computer desk, custom, executive chair, home office, new york, office planning, office space, shelving
BiNA Discount Office Furniture Online: Home Office Furniture Design Tips and Solutions
Discount Office Furniture Specials
<< Office Furniture DiscountsHome
Red Hot Summer Savings
Chairs Galore Sale
Cubicles Overstock Sale
Smart Savings: Another BiNA Bargain
Discount Desk Deals @ BiNA Office Furniture
New York Office Furniture Desk Sale
"Seat Yourself" at BiNA Office Furniture
BiNA voted Best Office Furniture 2010
Highback with Mesh Headrest
Mesh Multifunction Task Chair $159