BiNA Office Furniture • Call: 516-248-5858
Most of us spend a lot if time in the office. Our industry requires we visit many offices spaces. We have been selling
new quality office furniture
to all of New York for over 40 years. So, we're always looking at what others do and what has performed best in the long run. Of course, every
business
and office has different needs and different clients. Image is important, yet so is function. Though as the
economy
changes, some rules persist and are perhaps immutable. Here is one list of simple rules that work for most businesses, and also additional office design ideas that help too:
Your clients and customers see your
reception area
first. Having suitable
waiting room chairs
not ragged or broken seats tells visitors how you think of them. A formal yet unimposing
reception desk
commands authority without belittling your
guests
.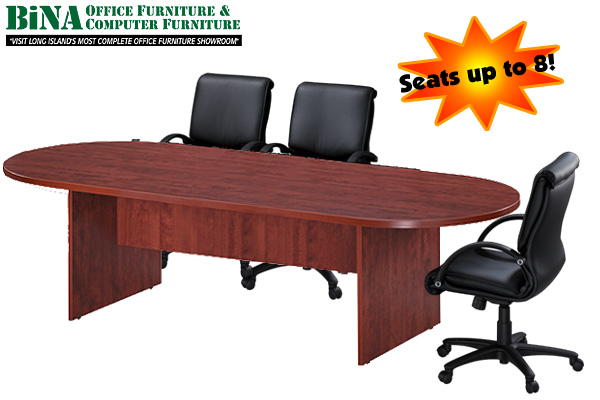 Your
conference room
is often the most important point for strategic selling if not for internal business meetings. Your
VIP guests
will note cheap chairs over sturdier models & guide your reputation from their memory of their visit.
Buy the
largest table
that will fit in the room, and the
number of chairs
is easy to calculate:
Don't overcrowd your
conference table
. Nobody wants to feel the odd chair out.
Whether a buffet for refreshments or an IT cabinet for presentation equipment, or even just to store stock materials such as papers and pens for meetings, the conference room service
cabinet
is the
butler
to your Bruce Wayne meetings.
Often times an office space will have a post or curved walls or other residual components that must be tolerated if not mitigated to a more useful end. With
custom office furniture
solutions, you can
order a table or desk
cut to suit irregular spacing and utilize underused office space for a copy room table or file cabinet storage room.
Also consider placing
office partitions
or
fabric cubicle
walls to cordon off areas or to guide traffic away from unsightly or utility-based
office spaces
.
Building out a large room with
cubicles
makes sense when you're occupying an
open space
and needing parallel office spaces for banks of employees, though some do like them for their homogeneous feel in smaller spaces. Additionally,
cubicles provide optional power and data
connections for tighter office appeal. Noone wants to see extension cords everywhere.
Alternatives are to buy
L-shaped workstation desks
and
divide
them with
freestanding panels
, or simply to outfit each
desk
or return with a full-sized
desk hutch
between
workstation
units. The main advantage is
furniture
is much easier to relocate within or outside an
office building
and also do not require a
professional installer
to configure for you.
Matching Office Furniture
It's not required all your pieces match or need be of similar style, color or even size. What does matter is if you plan on extending a series, it's good to work with a
business
that's been around a long time and will be there for you the next time you need to expand or re-fit your
business furniture
or
home office space
.
Labels: 516-248-5858, bargain, beauty, conference furniture, conference room, conference table, custom office furniture, design, floor plan, L-Shape, office space, partition, reception desk
Discount Office Furniture Specials
<< Office Furniture DiscountsHome
Esquire Bookcase for your Law Library
Best Office Furniture Practices
Buy Your Next Reception Desk from BiNA. Here's Why
File Cabinets, Storage & Bookcases
Shopper's Guide to Buying Office Desks
How To Arrange Your Office Furniture
How To Draw A Floor Plan to Scale
BiNA Discount Office Furniture Online, Call to buy office desks, chairs and more 516-248-5858